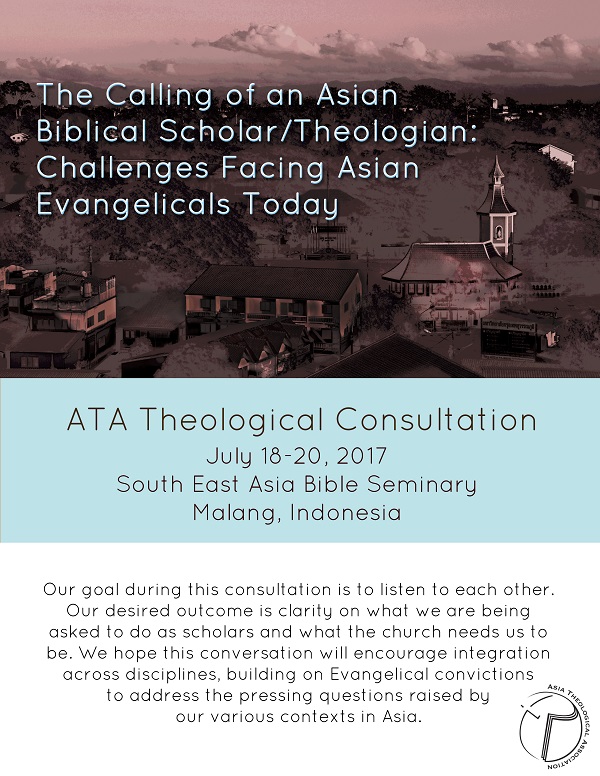 ATA Theological Consultation 2017
July 18, 2017

-

July 20, 2017
Theme: The Calling of an Asian Biblical Scholar/Theologian: Challenges Facing Asian Evangelicals Today
Place: South East Asia Bible Seminary
            Malang, Indonesia
Registration Fee:
Thanks to our host, Southeast Asia Bible Seminary, for subsidizing the cost of the consultation.
Twin Sharing (with aircon) – $175
Quadruple Sharing (with aircon) – $140
Non-Aircon Room (Twin Sharing with Electric Fan) – $100
Stay-out (with meals) – $80
Note:
Deadline of registration: July 7, 2017.
Registration fee includes accommodation and meals.
Limited rooms available for twin and quadruple sharing. (First come first serve)
Accommodation and food will be free for a day before and after the TC (food: student menu)
Flight details must be submitted 1 week before the TC. If not, your registration will be cancelled.
Participants can come to Malang by two ways:
1. International direct flight to Surabaya (SUB)
Form Surabaya to Malang will take about 3 hours drive.
2. International flight to Jakarta (Soekarno Hatta airport (CGK)), local flight from Jakarta (CGK) to Malang (MLG). 
There are two airports in Jakarta, do not take flight from Halim Perdana Kusuma airport (HLP).Flight information from Jakarta (CGK) to Malang (MLG):
– Sriwijaya: 6.20 a.m., 10.35 a.m., 13.00 p.m.
– Garuda airline: 8.15 a.m. and 10.45 a.m.