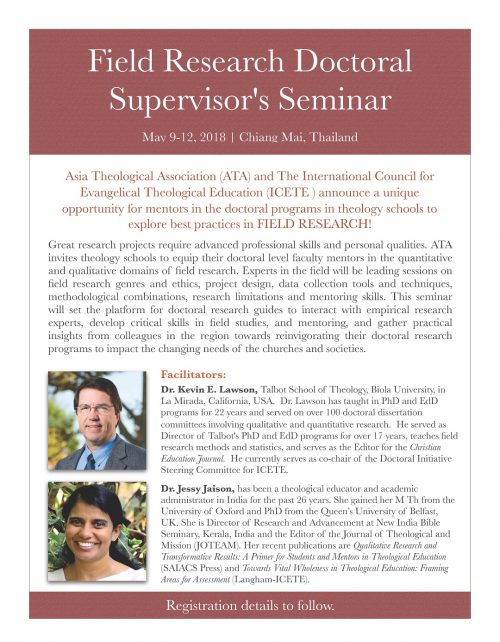 Field Research Doctoral Supervisor's Seminar
Asia Theological Association (ATA) and The International Council for Evangelical Theological Education (ICETE ) announce a unique opportunity for mentors in the doctoral programs in theology schools to explore best practices in FIELD RESEARCH!
Great research projects require advanced professional skills and personal qualities. ATA invites theology schools to equip their doctoral level faculty mentors in the quantitative and qualitative domains of field research. Experts in the field will be leading sessions on field research genres and ethics, project design, data collection tools and techniques, methodological combinations, research limitations and mentoring skills. This seminar will set the platform for doctoral research guides to interact with empirical research experts, develop critical skills in field studies, and mentoring, and gather practical insights from colleagues in the region towards reinvigorating their doctoral research programs to impact the changing needs of the churches and societies.
Registration Fees*:
Standard Room ( Single ) – USD 210
Standard Room ( Twin Sharing ) – USD 150
* Inclusions:
Room accommodation for 3 nights (May 9-11)
Meals (Starting from May 9 afternoon snacks to May 12 afternoon snacks)
Facilitators:
Dr. Kevin E. Lawson, Talbot School of Theology, Biola University, in La Mirada, California, USA.  Dr. Lawson has taught in PhD and EdD programs for 22 years and served on over 100 doctoral dissertation committees involving qualitative and quantitative research.  He served as Director of Talbot's PhD and EdD programs for over 17 years, teaches field research methods and statistics, and serves as the Editor for the Christian Education Journal.  He currently serves as co-chair of the Doctoral Initiative Steering Committee for ICETE.
Dr. Jessy Jaison, has been a theological educator and academic administrator in India for the past 26 years. She gained her MTh from the University of Oxford and PhD from the Queen's University of Belfast, UK. She is Director of Research and Advancement at New India Bible Seminary, Kerala, India and the Editor of the Journal of Theological and Mission (JOTEAM). Her recent publications are Qualitative Research and Transformative Results: A Primer for Students and Mentors in Theological Education (SAIACS Press) and Towards Vital Wholeness in Theological Education: Framing Areas for Assessment (Langham-ICETE).