A hundred year ago, 70 percent of Christians lived in the West. Now the map of Christianity is evenly distributed. This has implications for doing theology, biblical interpretation, and thinking about the Christian life in Asia. In the past, this was done mostly, if not entirely, by western scholars. This made sense, since majority of Christians used to live in the West. But now, in the light of global Christianity, there ought to be a shift in the way theology or biblical interpretation is done. Those in Asia and other parts of the majority world ought to be the ones doing biblical interpretation for their own contexts. As Andrew Walls pronounces: "the faith of the twenty-first century will require a devout, vigorous scholarship rooted in the soil of Africa, Asia, and Latin America."
Unfortunately, it's mostly writings by Western scholars that continue to dominate much of Asian religious writings. Hwa Yung confesses: "Up to this point, comparatively little has been produced in terms of authentic Asian theological thinking that addresses directly and powerfully the big questions posed by culture and context in Asia." ATA Publications seeks to address this need by publishing commentaries (Asia Bible Commentary), books (e.g. Tending the Seedbeds), and journals (Journal of Asian Evangelical Theology and Journal of Asian Mission) from the Asian perspective. For instance, what makes our commentaries unique is that they are written deliberately with the Asian context in view. Asian writers try to relate the Bible to their respective contexts using their own stories, parables, proverbs, etc. The result is not only relevant and enriching for Asian readers; it also provides a great contribution to the wider global Christian community.
Asia Bible Commentary Series
The Asia Bible Commentary series empowers Christian believers in Asia to read the Bible from within their respective contexts. Holistic in its approach to the text, each exposition of the biblical books combines exegesis and application. The ultimate goal is to strengthen the Body of Christ in Asia by Asia providing pastoral and contextual exposition of every book of the Bible.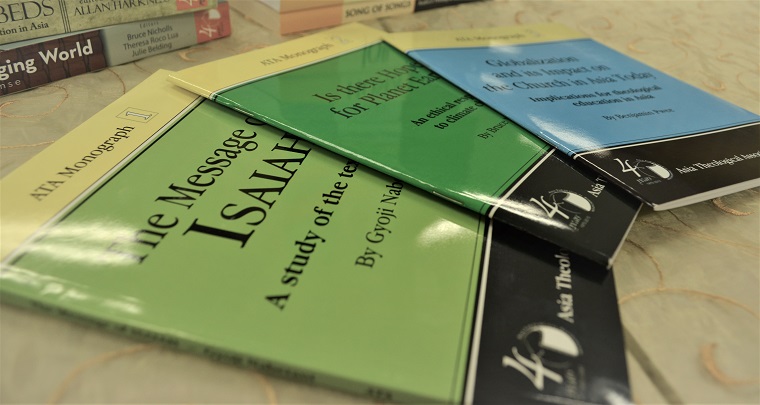 Price
The Message of Isaiah: A Study of Text Itself
Price
Is There Hope for Planet Earth?
Price
Globalization and its Impact on the Church in Asia Today
Editor:
Dr. George W. Harper, Philippines
The Journal of Asian Evangelical Theology is published semiannually by:
Asia Theological Association
c/o Asia Graduate School of
Theology-Philippines
54 Scout Madrinan St.
Quezon City 1103, Philippines
Rates: Free to all Asia Theological Association member institutions.
The Journal of Asian Mission is published twice per year (May and October) by Asia Graduate School of Theology-Philippines, 54 Scout Madrinan, 1103 Quezon City, Philippines. Views expressed in the Journal reflect those of the authors and reviewers, and not views of the editors, the publisher, its member schools or the partner institutions.
The Journal of Asian Mission seeks to provide a forum to assess theories and practices of mission applied in the past or proposed for the future, and to encourage reflective thinking among Christian leaders training Asians for missionary task and those working toward the evangelization of Asia. Past issues of the JAM can also be found at http://www.agstphil.org/jam/
Step One

Send us an e-mail ( atapublications@gmail.com ) indicating your order and delivery address.

Company / Receiver Name:
Address:
Town / Area Code:
State / Country:
Contact Name:
Phone / Fax No.:

Step Two

Confirm your order.

Step Three

Payments can be made in two ways:

Telegraphic Transfer
Account Name Asia Theological Association International (ATA), Inc.
Account Number 441-2-441-00323-9
Swift Code MBTCPHMM
Bank Metrobank-Karuhatan, Valenzuela Branch
Bank Address 235-I McArthur Highway, Karuhatan Valenzuela, Metro Manila, Philippines

Check/International Bank Draft
Payable to Asia Theological Association International (ATA)
Send to Dr. Theresa Lua c/o Asia Graduate School of Theology
54 Scout Madriñan, Quezon City 1103, Philippines

Step Four

In a few days, your order will be delivered to you.